Former French President Jacques Chirac has died at age 86
Published time: 26 Sep, 2019 10:02Edited time: 26 Sep, 2019 12:06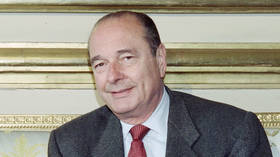 Portrait of Jacques Chirac at the Elysee Palace in Paris on May 9, 1996.
© AFP / Gerard FOUET
Former French leader Jacques Chirac has died at the age of 86, his family reported. Under his leadership, France enjoyed an independent foreign policy, distinguishing itself from European states eager to appease Washington.
Outside of his native country, Chirac is perhaps best known for his principled opposition to the US-led invasion of Iraq in 2003. Unafraid of then-president George W. Bush, the French statesman prevented his country from becoming entangled in the Middle East conflict, now widely regarded as a quagmire that was based on false pretenses.
He was a fierce critic of Europe's willingness to follow Washington's lead. In the lead-up to the Iraq war, he accused Poland, Hungary and the Czech Republic – then aspiring EU states – of acting "recklessly" by showing their support for US saber-rattling aimed at Baghdad.
"They missed a good opportunity to keep quiet," he said at the time.
Domestically, he was equally unconcerned if his policies ruffled feathers. He prohibited head scarves in schools, as part of a wider ban on religious garments in educational institutions.
Although his positions were often polarizing, he was capable of bringing people of all nationalities and cultures together. As a young man, Chirac translated Russian poet Alexander Pushkin's verse novel 'Eugene Onegin' into French. In 2008, he was awarded a Russian state prize for his humanitarian work and efforts to strengthen Russia-France relations.
Chirac led France between 1995 and 2007 on a liberal conservative platform derived from the policies of Charles de Gaulle. His presidency was a turbulent one from the start.
Elected for his first term in a country gripped by worker discontent, he failed to meet protester expectations and imposed austerity measures.
During his first year in power he faced a general strike while his popularity suffered a hit that made his reelection campaign a really close call. Winning just 20 percent of the vote in the first term in 2002, he nevertheless managed to secure a second term beating Jean-Marie Le Pen, the leader of the right-wing National Front party.
Under his leadership, France underwent a resurgence as an independent player after years of following the lead of the US. Apart from refusing to join the American-led 'coalition of the willing,' he also vocally criticized Israel for its 2006 war with Lebanon.
His political legacy is somewhat marred by a conviction for corruption, which goes back to his time as the Mayor of Paris. The scandal was put on hold by his being the president and getting immunity from prosecution, but after he left office he was tried for embezzlement and sentenced to two years suspended.
He also had two relatively close brushes with death during his political career. In 2000 he and the first lady were almost killed at the Charles de Gaulle International Airport when a Concorde plane caught fire and almost collided with a Boeing 747 carrying the couple. Two years later a gunman fired a shot at the president's motorcade during a Bastille Day celebration.
Vladimir Putin sent a message of condolences to Bernadette Chirac on the death of her husband, former President of France Jacques Chirac.
September 26, 2019
15:00
The President of Russia emphasised that the name of Jacques Chirac was connected with an entire era in the contemporary history of France: as president, Jacques Chirac earned the respect of his compatriots and high international esteem as a wise and farsighted politician, who consistently protected the interests of his country.
Vladimir Putin noted that every time he talked to Jacques Chirac, he admired his intellect and deep knowledge as well as his knack of making balanced decisions even in the most difficult situations.
"Russia will remember his great personal contribution to the development of friendly relations between our countries, as well as to mutually beneficial bilateral cooperation," the message reads.
Vladimir Putin also asked to convey his sincere condolences to Jacques Chirac's family and friends.