No Trump/Russia Connection Says FBI deputy assistant director of Counterintelligence
No Trump/Russia Connection Says FBI deputy assistant director of Counterintelligence
FBI agent sent 'jaw-dropping' text about no Russia collusion – senator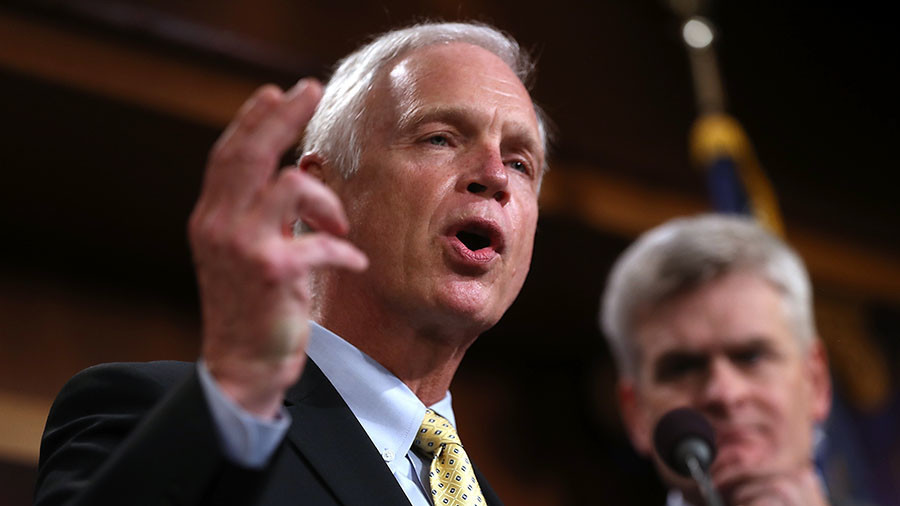 The FBI agent who investigated the Trump-Russia collusion claim sent a "jaw-dropping" text message suggesting that there was nothing to it, according to a Wisconsin senator who chairs the Homeland Security Committee.
Peter Strzok, formerly the deputy assistant director of the FBI's counterintelligence division, sent a text to his mistress, FBI attorney Lisa Page, on May 19, 2017 – just two days after the special counsel was appointed to investigate claims of President Donald Trump's collusion with Russia during the 2016 campaign. Strzok had led the investigation into Trump since July 2016, and had previously been involved in the probe of Hillary Clinton's use of a private email server.
"You and I both know the odds are nothing. If I thought it was likely, I'd be there no question. I hesitate in part because of my gut sense and concern that there's no big there there," Strzok texted Page, according to Senator Ron Johnson (R-Wisconsin), who read out the message on Tuesday during an interview with WISN-Milwaukee radio host Jay Weber.
"I think that's kind of jaw-dropping," said Johnson. "In other words, Peter Strzok, who was the FBI deputy assistant director of the counterintelligence division, the man who had a plan to do something because he just couldn't abide Donald Trump being president, is saying that his gut sense is that there's no big there there when it comes to the Mueller special counsel investigation."
Johnson chairs the Senate Homeland Security and Governmental Affairs Committee, which has been looking into the "completely unguarded" texts between Strzok and Page. The two were quietly removed from Mueller's staff at some point last year after their texts to each other revealed a major conflict of interest.
Among other things, Strzok and Page discussed an "insurance policy" in case Trump won the election. On Tuesday, Representative Trey Gowdy (R-South Carolina) said that one of the texts he had seen even referenced a "secret society" at the FBI.
Hundreds of text messages between Strzok and Page surfaced during a Justice Department inspector general investigation into the FBI probe of Hillary Clinton. Strzok was one of the lead investigators in that probe. The existence of the texts was first reported in December, though Strzok had been reassigned from Mueller's team to the FBI's human resources department in August.
On Monday, the FBI admitted it had "failed to preserve" the messages between Strzok and Page from December 14, 2016 to May 17, 2017 – the day Robert Mueller was appointed special counsel to investigate Trump's alleged collusion with Russia. The FBI blamed the loss on "misconfiguration issues related to rollouts, provisioning, and software upgrades."
Even so, Attorney General Jeff Sessions said the FBI investigators have found "over 50,000 texts" between Strzok and Page. According to Senator Johnson, the pair were "completely unguarded" in their communications.
"So we're getting insight into exactly what is happening inside the FBI at the highest levels. And who knows who else they might implicate in terms of corruption," he said on Tuesday.
Johnson has asked the Department Of Justice to produce messages from Strzok's and Page's personal iPhones and their Gmail accounts as well, as both were referenced in the text exchanges.